In 1947 MR MAKHAN SINGH (popularly known as Babuji) together with his eldest son Mr Udaivir Singh (J.P) started a Book and Stationery Business under the name SUVA BOOK SHOP. The Brain child of BABU MAKHAN SINGH and his son Babu Udaivir Singh SUVA BOOK SHOP has now become a brand name in the Supply of Hindi Books, Magazines, Novels, Children's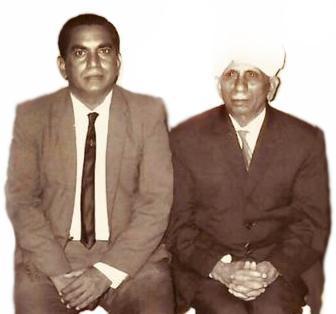 Educational Books, Maths Manipulatives, Children's Educational Games and Toys, School, Office & Home Stationery, Commercial Printing and Book Publishing.Mr MAKHAN SINGH (popularly known as Babuji) and Mrs MAKHAN SINGH DHIRAJI came to Fiji by steam ship SANTIA No 2 in 1910. Babuji was born in Rohtak Haryana, India. Babuji went to school at the age of 6 and at 20 travelled extensively in India. He was very well versed in Hindi, Gurumukhi and English.
Being proficient in mathematics Babuji was employed as an assistant to one of CSR Co's Australian Surveyors. After serving their full term of 5 years Babuji and Mrs Singh took up cane farming in Nadi for 6 years.In 1921 Babuji and family moved to Suva where he leased 20 acres of Native Land for farming. Incidently the present Tamavua Primary School complex of which he was the Founder and President occupies a portion of land previously leased by Babuji.
In 1927 Babuji and others built a school in Tamavua and Babuji was the first chairman as well as the first teacher. He taught English, Urdu and Punjabi. However in 1929-1930 storms and floods struck the Central Division and the school was completely destroyed.Babuji than went on with others to rebuild the school and once again took up the Guru's Pedestal.
Mr Udaivir Singh (also known as Babu Udaivir Singh) in 1936 founded the Arya Pustakalaya Fiji – an educational and charitable organisation of which he was the president for decades. On 3rd March 1943 Babuji Udaivir Singh together with a working committee started the Bhawani Dayal Memorial School for the residents of 9miles Wainibuku. The school was built in the form of a Bure and is registered under the name of Arya Pratinidhi Sabha of Fiji.