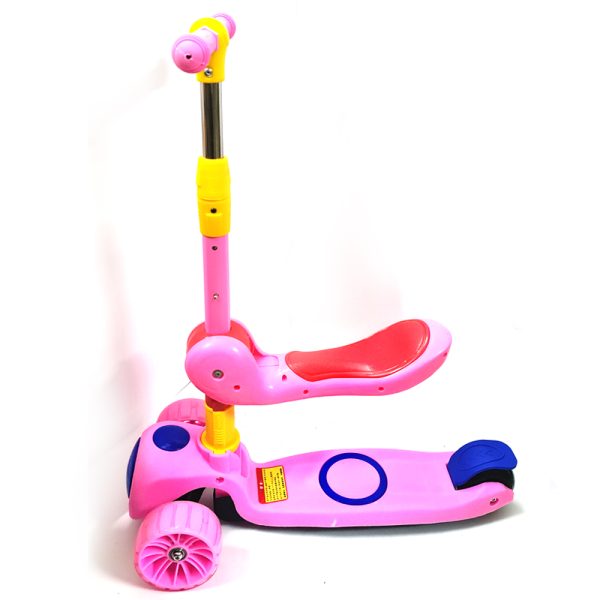 KIDS 3 WHEELER KICK SCOOTER SIT OR STAND – LEAN TO STEER
MULTICOLOUR WHEEL LIGHTS FEATURES COLOURFUL LED TURNING WHEEL LIGHTS THAT LIGHT UP IN A VARIETY OF FLASHING COLOURS AS YOU SCOOT, ADDING A FUN TWIST TO THE RIDE. NO BATTERIES REQUIRED.
SIT OR STAND DESIGN: THIS SCOOTER FOR TODDLERS IS EQUIPPED WITH REMOVABLE FLIP-OUT SEAT WHICH KIDS CAN USE WHILE CRUISING ALONG WITH THE BUILT-IN FOOT PAD. CAN BE DETACHED WHEN THEY FEEL MORE CONFIDENT STANDING UP. HANDLE BAR HAS ADJUSTABLE HEIGHTS.
FACE AND FOOT DECK HAS LIGHTS. USES 3 x AAA BATTERIES – NOT INCLUDED. BUTTON ON FOOT DECK WITHIN REACH OF TOES PLAYS MUSIC WHEN PRESSED.
LEAN TO STEER TECHNOLOGY FEATURES EASY MANEUVERING WHICH MEANS THE SCOOTER IS CONTROLLED BY LEANING RATHER THAN TURNING THE STEERING WHEEL AND HELPS YOUR CHILD DEVELOP BALANCE SKILLS, COORDINATION AND MOTOR SKILLS.